Force Factor Fuego launched in August 2017. This Fuego pre-workout review will cover the newest workout health powder from Force Factor, a company that specializes in muscle building supplements.
While Force Factor's other pre-workout supplements are primarily formulated to deliver an energy boost and enhance focus, Fuego claims to offer a wide range of benefits including insane muscle pumps, improved strength and power, enhanced endurance, as well as increased energy and intense focus at the gym. Read the full Fuego pre-workout review below:
Fuego Pre-Workout by Force Factor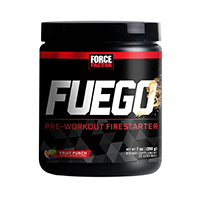 Fuego's formulation contains two main proprietary ingredients:
1.) Strength & Performance Matrix
2.) Fire Starter Energy Complex
---
Fuego Strength & Performance Matrix
The ingredients in this blend promote enhanced pumps, strength and performance. The two main ingredients are:
L-Citrulline – According to various scientific studies, this non-essential amino acid stimulates the production of nitric oxide and arginine plasma, particularly during exercise. In other words, it helps reduce fatigue and muscle soreness during exercise. Additionally, it helps with better blood circulation by promoting vasodilation.
Taurine – This amino acid helps to regulate water balance, muscle contractions, heartbeat and energy levels. Additionally, it promotes absorption of nutrients in muscle cells and helps prevent dehydration during exercise.
---

---
Fuego Fire Starter Energy Complex
This blend takes care of the energy and focus side of things. It is formulated with premium ingredients including:
Caffeine anhydrous – helps with augmenting energy levels and metabolism.
L-Theanine – Commonly found in tea, this amino acid promotes clean, clear energy with less jitters.
TeaCrine Theacrine – This mild stimulant that reduces fatigue, improves concentration, and may boost energy levels.
Huperzine-A – Also known as (toothed clubmoss) is used primarily to boost focus during workouts, bodybuilders often stack toothed clubmoss with choline to make it more effective. Huperzine-A may also enhance contractions during exercise.
Force Factor Pre-Workout Flavors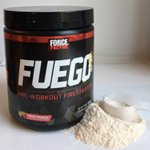 Fuego is available in powder form and comes in three flavors. Fruit Punch, Blue Razz and Arctic Gumball. Many other reviewers have said that fruit punch is their favorite flavor. This means that the best way to use Fuego is to mix it with water. Alternatively, you can mix it with your favorite smoothies. For the best results, you should take Fuego 15 to 20 minutes before you work out.
Where to Buy Force Factor Supplements
You can buy Force Factor Fuego from Force Factor's official site, various online retails sites, as well as various offline stores, such as GNC. One container of the product costs $34.99 and contains about 20 servings. The recommended serving size is one level scoop (about 10 grams). You can also try Fuego for a limited time through our special promotion. Just click the link below to claim your sample:
---
Fuego Review Summary
Fuego pre-workout firestarter is the newest pre-work supplement from Force Factor. It is formulated with premium ingredients that promote clear energy, endurance, pumps and strength gains. Additionally, Fuego promotes focus and delivers an energy boost. You can buy Fuego from the official Force Factor site, as well as from GNC and various other brick-and-mortar stores. We really liked this supplement and would highly recommend to anyone looking for a solid boost before workouts.
If you are still unsure, you can always try it by claiming your Fuego Pre-Workout Sample.
---
WATCH A QUICK VIDEO ABOUT THE FORCE FACTOR FUEGO PRE-WORKOUT REVIEW
For more information about this product, or other Force Factor Reviews you can contact their customer care department by visiting their website or calling the toll free number during business hours.
Stay tuned for progress updates in September and October! 
---
*Please review the disclaimer at the bottom of our page.